Our Story
History of the Apalachicola Bay Watershed and St. Joseph and St. Andrews Bays
Over One hundred and twenty years ago the Army Corp of Engineers, with help from our more industrial minded forefathers, connected the saltwater environments of St. Joe Bay and St. Andrews Bay to the freshwater ecosystems of Lake Wimico and the Apalachicola River via the Gulf Intracoastal Waterway (GIWW) and the Gulf County Industrial Canal. Lake Wimico and its surrounding wetlands and tributaries are a major source of freshwater for the Apalachicola Bay ecosystem, and they collect, store, filter and feed this freshwater into the Apalachicola Bay ecosystem via the Jackson River.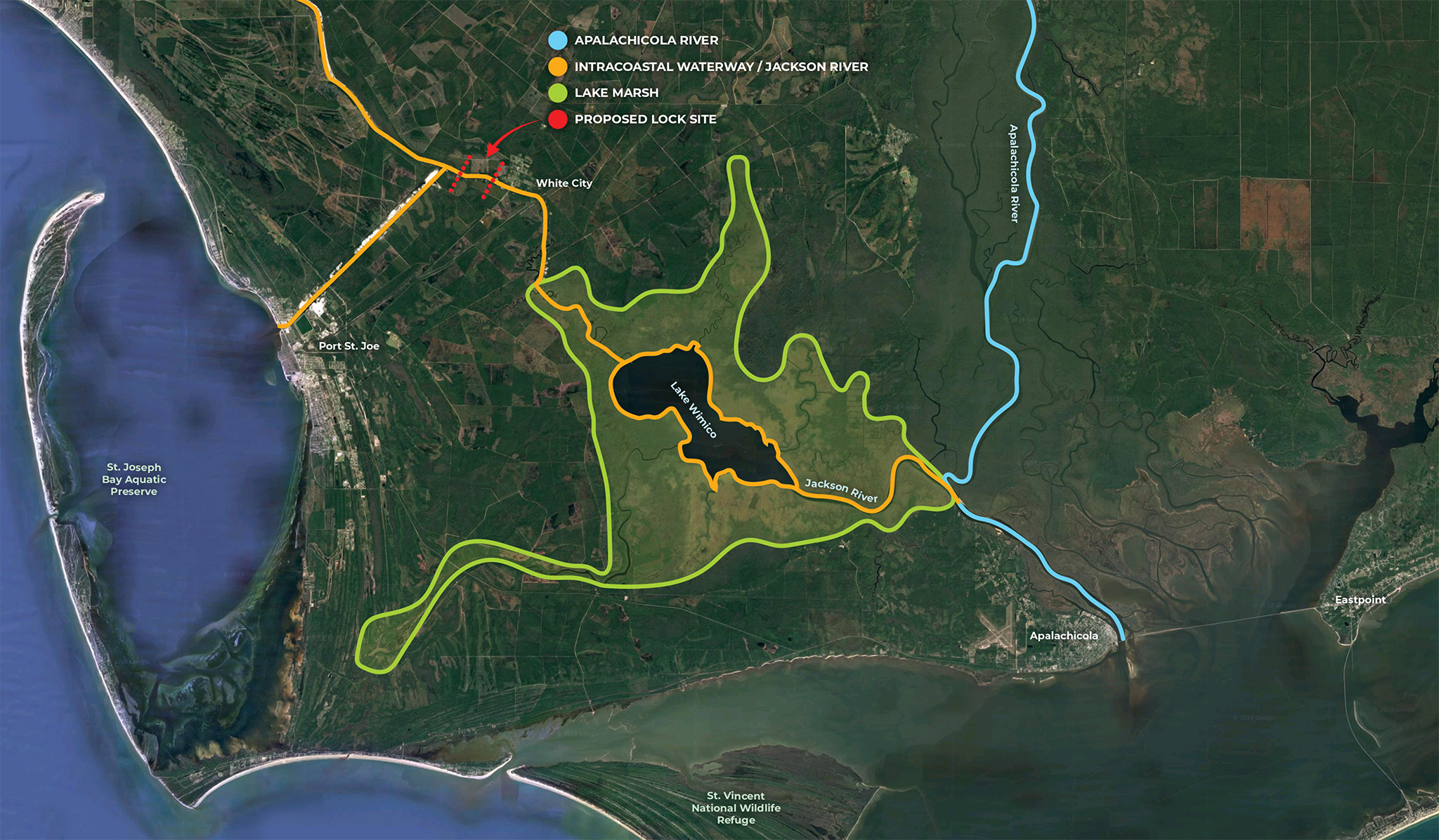 This direct connection of a pristine, zero flow, freshwater drainage basin ecosystem with the saline environments of St. Joe Bay and St. Andrews Bay is now causing catastrophic damage to the Lake Wimico watershed and the Apalachicola River system, its marshes and Apalachicola Bay. The reverse is also happening, with high river flow causing unrestrained runoff into St Joe Bay and St. Andrews Bay, resulting in extreme sedimentation of the entire bay floor and increased turbidity causing damage to seagrass beds and the marine life that depends on them. This connection via the GIWW effectively drained Lake Wimico and its marshes of several feet of water, as well as creating a constant flow OUT of the Lake, where historically there was none. More importantly, the Canal CONTINUES each and every day to divert precious freshwater and its sediment from the Apalachicola Bay Watershed , (where it would nourish), into St. Andrews Bay and St. Joe Bay, (where it harms).
Core Samples From St. Joe Bay Floor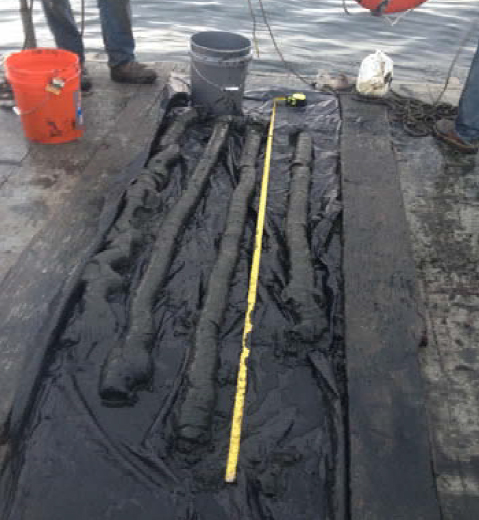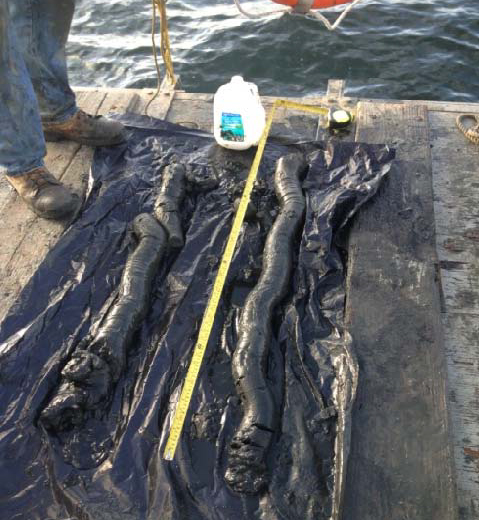 Jim Woodruff Dam Construction
Since the construction of Jim Woodruff Dam the Corp has maintained navigational depth (approx. 9 ft at Blountstown) in the Apalachicola River. As long as the flow rate was adequate to maintain these depths the effect of salinization were minimal.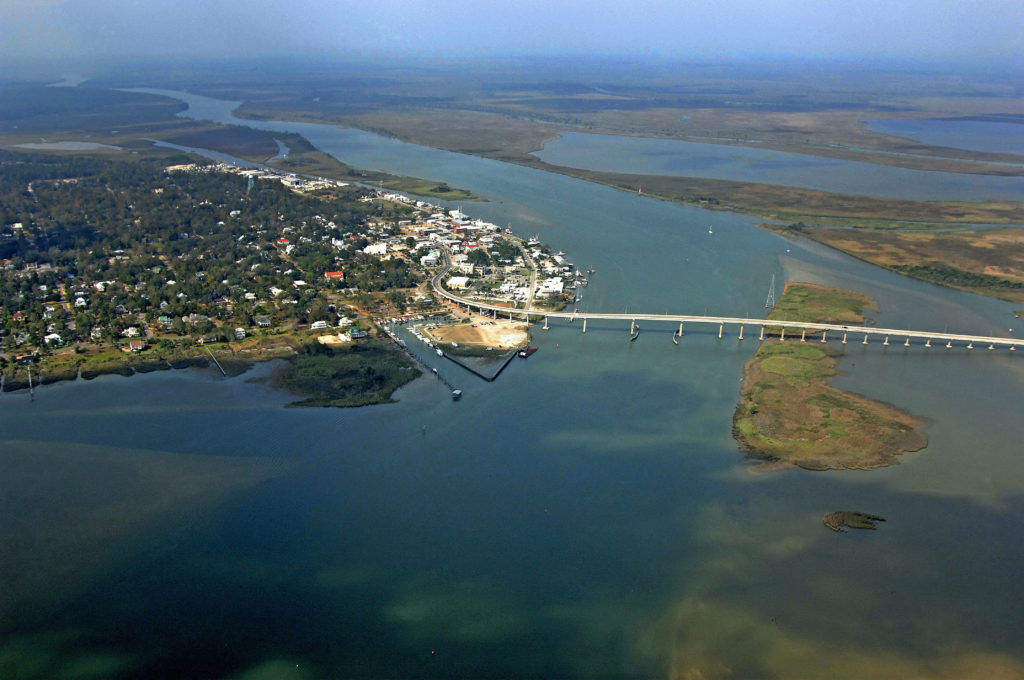 These river levels maintained enough freshwater in the Lake Wimico drainage basin and the Apalachicola River Marsh to keep the saltwater largely pushed back. Since 1988, however, the Corp has no longer consistently managed navigational depth in the Apalachicola River. (See the attached information paper from the Corp) This has resulted in longer and more drastic low flow periods. This extreme low river flow creates a gradient that allows "Flushing" of Lake Wimico and its marsh. These low River Flow periods allow Sustained Southeast winds and tropical weather systems with storm surge to "Flush" salt water from Apalachicola Bay into the Jackson River, and through Lake Wimico. This in effect "Flushes" the entire Lake ecosystem with Salt Water, and forces the fresh water from Lake Wimico into St. Joe Bay and St. Andrews Bay.
Reverse Runoff Effects
The reverse is also happening. During periods of normal to high river flow the nutrient and sediment rich waters of the Apalachicola floodplain are diverted from Apalachicola Bay into St. Joe Bay and St. Andrews Bay, converting this precious freshwater that is so desperately needed by the oysters in Apalachicola Bay into damaging stormwater discharge that is catastrophic to sea grass health in St. Joe Bay and St. Andrews Bay. Control of storm water runoff has been a critical and valuable asset to improving coastal water quality nationwide, yet here in St. Joe Bay and St. Andrews Bay we have a massive, uncontrolled, man-made runoff occurring every time there is high river flow! The World Resources Institute has documented eutrophication and Hypoxia in St. Joe Bay since the 1990's. St. Joe Bay is one of the few completely Saltwater Bays in Florida. Unlike the majority of our Bays that are formed by rivers or creeks running through them to reach the Gulf or Atlantic, St. Joe Bay never had any freshwater effluent running into it until we connected St. Joe Bay with the Apalachicola River floodplain through the GIWW and the Gulf County Industrial Canal. Over the years this uncontrolled runoff has deposited over FIVE FEET of river sedimentation on to the floor of St Joe Bay in many areas. (See photos of core samples from the floor of St. Joe bay )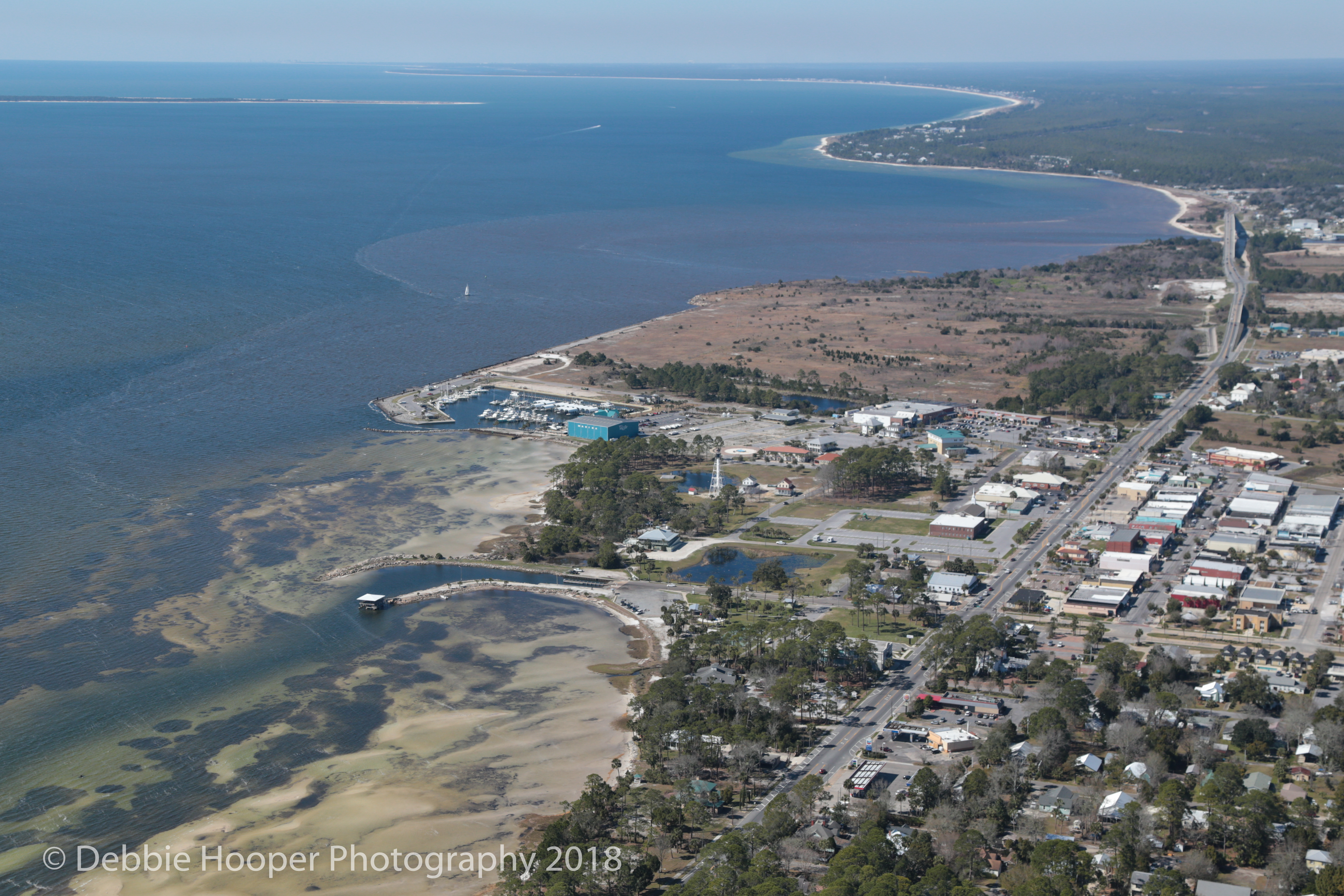 Data & Observations
Flow data collected by Baysavers indicates a constant flow of freshwater from Lake Wimico into St. Andrews Bay and St. Joe Bay. Data was collected at the "T" connection between the Gulf Intracoastal Waterway and the Gulf County Industrial Canal just northwest of White City, Fl.

Average flow was 7500 CFS, or 4.8 BILLION gallons per day! This is more than 40% of the total Apalachicola River flow! Final CFS is important, but must be compared to ZERO, which is the historic number.
Sample 8 was collected on January 13, 2020, and the river reading was 15.2 ft at Blountstown. This is indicative of moderate water flow, which is around 14000 CFS, or 9 BILLION gallons per day. We have had over 1200 days of HIGH water event flow(17ft or higher at Blountstown) in the last 40 yrs. The Canals have been here for 120 yrs. The Math speaks for itself.
Water & Elevation Gage Data
This data supplied by existing USACE water gages shows the gradient between the White City Gage and the St. Andrews Gage. Again, this gradient shows the water flow that we observe, always going out of Lake Wimico toward St. Andrews Bay and St. Joe Bay (See figure 2)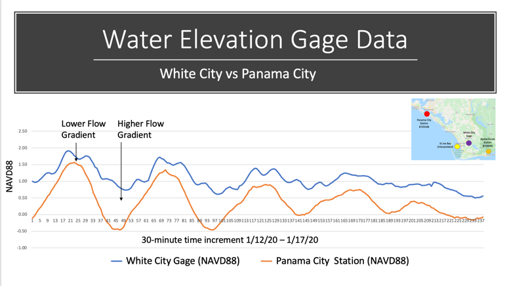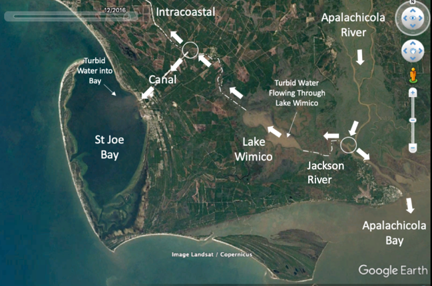 Turbidity
Turbidity in the Apalachicola River Water is a "Dye Marker" in aerial photos. History of Aerial photos confirms this constant movement of water out of the Apalachicola River, up the Jackson River, through Lake Wimico into St. Andrews Bay and St. Joe Bay (See figure3)
Thermal Images
Cold river water is easily tracked using Thermal imaging. This thermal Image shows Apalachicola River Water pluming into St. Joe Bay and St. Andrews Bay. It also shows a massive plume entering the Gulf of Mexico out of the New Pass in St. Andrews Bay. (See fig 4)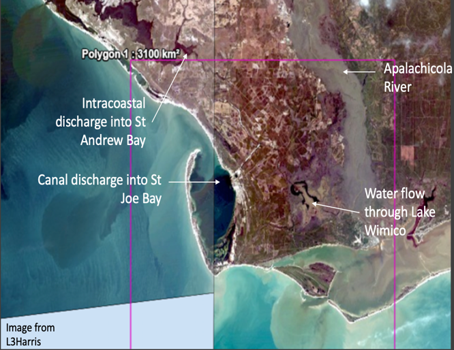 Low Water Issues
The ever increasing frequency of low flow in the Apalachicola River floodplain is well documented. At low flow the total volume lost is less than high water, but the % lost is MUCH GREATER, which is significant because oysters are much more at risk in low flow periods.
Storm Surge
Combined with a storm surge this low water leads to FLUSHING of the entire Lake Wimico marsh with saltwater, with corresponding loss of native Aquatic vegetation.
Canals in the Literature
Beginning with Steward and Gorsline, et al in 1962, and ending with the fact that the most recent SWIM plans for these two watersheds ignore the Canals and their water flow, these canals have been consistently ignored or drastically under reported in the literature. There are many inconsistencies and errors in this study, yet this 57 year old study is still the basis for much of the data we use today, including the current SWIM plans for Both of these watersheds.
At this Time there is NO established data on these canals. The adage "No data is bad, but bad data is worse, because it tends to get perpetuated" is prophetic in this case.